29

North America: Regional Example – The American Midwest
"What geography can give all Middle Westerners, along with the fresh water and topsoil, if they let it, is awe for an Edenic continent stretching forever in all directions.  Makes you religious. Takes your breath away."
– Kurt Vonnegut, American author
When I grew up in Minnesota, it was quite apparent to me that the Midwest region of the United States was a set of five states – Minnesota, North Dakota, South Dakota, Iowa, and Wisconsin.  When I later moved away from Minnesota, I was surprised to learn that other Americans had different definitions of the Midwest than I did. Furthermore, these other definitions were not all the same, but offered multiple variations.
So, how do we define the American Midwest?  Well, the US Census Bureau cites the Midwest as those five states listed above, plus Ohio, Michigan, Indiana, Illinois, Nebraska, Missouri, and Kansas – thus, twelve states in total.
In 2014, the website fivethirtyeight.com used a SurveyMonkey Audience of self-selected Midwesterners to define the region.  Indiana, Illinois, and Iowa received the highest scores with over 70% of respondents indicating that these states are in the Midwest.  A few, about 10%, voters let Montana, Wyoming, and Colorado into the Midwest, choices that I consider felonious. Similarly, a few offered Midwestern status to Pennsylvania and West Virginia.  No!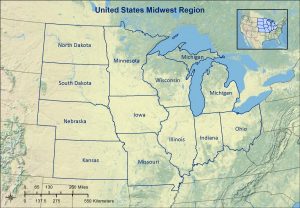 So, here is Rule #1.  Midwestern states do not have mountains!  South Dakota comes close, but its Black Hills are called hills after all.  Colorado's Rocky Mountains disqualify it (and Wyoming and Montana too) as a Midwestern entry, as do the Appalachian Mountains for Pennsylvania and West Virginia.
In 2019, Citylab.com also attempted to settle this question of Midwestern membership.  Their survey appears to be open still for submissions.  The pattern of their respondents' opinions matches well with the US Census Bureau's twelve states, for all these states are marked with counties showing 80% or higher self-designation as Midwestern.  Several other states showed a bit, but scant support. Shockingly, Texas, Georgia, and Rhode Island had more than zero support.  Wrong!  Rule #2 – Midwestern states do not border the Pacific Ocean, the Atlantic Ocean, or the Gulf of Mexico.  Midwestern states may, but are not required to, border one or more of the Great Lakes.
This is a popular and divisive topic.  In 2016, Vox.com also gave it a shot.  Over 34 thousand readers voted.  Iowa won, receiving 95% of the vote as a Midwestern state.  The Census Bureau's dozen were the top twelve vote getters, with North Dakota coming in twelfth with 45% of the votes.
What else is true about the Midwest?
A – Farming.
According to the US Department of Agriculture, "in 2018, the top 10 agricultural producing States in terms of cash receipts were (in descending order): California, Iowa, Texas, Nebraska, Minnesota, Illinois, Kansas, North Carolina, Wisconsin, and Indiana."  Seven of these states are in the Midwest.  This is not to say that everyone in the Midwest is a farmer.  No, even in Iowa where 85% of the land is farmed, only 5% of the people are farmers. Instead, we understand that farming is economically important, if not crucial, in Midwestern states.  Wisconsin is renowned for its dairy industry.  Iowa leads the United States in hogs and corn. North Dakota and Kansas lead in wheat.
B – Glacial landscapes.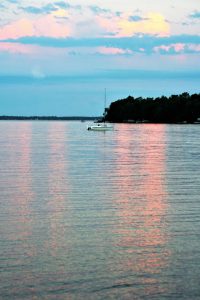 As noted, Midwestern states do not have mountains nor do they have deserts.  The Ice Age's Laurentian Ice Sheet stretched from what is now Canada into what is now the United States.  As shown by Idaho State University's map at https://tinyurl.com/midwest-region , the glacial maximum reached all the Midwestern states, including full coverage of Minnesota, Iowa, Wisconsin, Illinois, and Michigan.  The thousands of lakes in Minnesota, Wisconsin, and Michigan were carved by glaciers as they receded.  Otter Tail Lake in Minnesota is pictured to the right.
Both the farming and the glacial features of the Midwest also are generally related to the flatness of many of these states. Although Florida is America's flattest state, the rest of the top ten flattest states include five Midwestern states, noted here in bold – Florida, Illinois, North Dakota, Louisiana, Minnesota, Delaware, Kansas, Texas, Nevada and Indiana.
C – Distinctive European heritage1
Selected Ethnic Groups in Minnesota
| Ethnic Group | Number of Midwest states with this group | Top Midwest state ranking for that group |
| --- | --- | --- |
| Norwegian-Americans | 5 of top 7 states | Minnesota = #1 |
| Swedish-Americans | 4 of top 7 states | Minnesota = #1 |
| Danish-Americans | 2 of top 4 states | Minnesota = #3 |
| Icelandic-Americans | 2 of top 3 states | Minnesota = #2 |
| Finnish-Americans | 3 of top 5 states | Michigan = #1 |
| Czech-Americans | 6 of top 8 states | Illinois = #2 |
| Polish-Americans | 2 of top 3 states | Illinois = #2 |
| Belgian-Americans | 3 of top 5 states | Wisconsin = #1 |
This is in contrast to the populations of Irish-Americans and Italian-Americans, who tend to be more heavily located in northeastern states, while Americans with English or German heritage have very widespread distributions across the whole United States.  In the Midwest we find the largest shares of Northern European ancestry and other somewhat northern European ancestries.  It is noteworthy that these ethnic patterns are generally uncommon in the rest of the United States.  (Note that California, due to its very large population of about forty million people, has lots of peoples of many ethnicities.)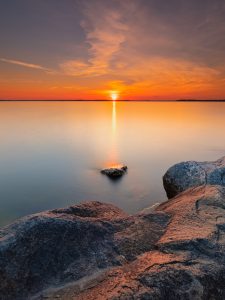 In sum, the American Midwest is larger than my childhood vision understood.  The list of twelve states, as provided by the US Census Bureau, is best.  Midwestern states lack mountains and ocean coastlines, but feature an emphasis on farming, glacial landscapes, and atypical European heritage.
Formerly there was an American Mideast Conference made up of collegiate sports teams in Ohio, Pennsylvania, New York, and Massachusetts.  Unlike the Midwest it is unusual to refer to any portion of America as the Mideast.
According to the Annie E Casey Foundation's 2016 KIDS COUNT report, Minnesota is the best state in which to raise a child. Iowa is the third best state.
What about other regions of the United States? Try this map – https://i.redd.it/vdxvbqaqbyx71.png . What do you think is the American South?
For a Final Jeopardy query about the Midwest, go to:
Final Jeopardy
     Did you get it right?
Cited and additional bibliography:
1US Census totals from 2000 as reported by various entries in Wikipedia.
Hickey, Walt. 2014. "Which States Are in the Midwest?" FiveThirtyEight. April 29, 2014. https://fivethirtyeight.com/features/what-states-are-in-the-midwest/.
Jankovic, Melissa. 2020. "The American Midwest." College of DuPage GIS class. Instructor Joseph Adduci.
Montgomery, David. 2019. "We Mapped 'the Midwest' for You, So Stop Arguing." CityLab. August 19, 2019. https://www.citylab.com/life/2019/08/where-is-the-midwest-map-geography-great-lakes-rust-belt/597082/.
Oh, Soo. 2016. "We Asked Readers to Define the Midwest. Here's What We Learned." Vox. February 16, 2016. https://www.vox.com/2016/2/16/10889440/midwest-analysis.
Soniak, Matt. 2014. "Is Kansas Really 'Flatter than a Pancake'?" Www.Mentalfloss.com. September 22, 2014. https://www.mentalfloss.com/article/58976/kansas-really-flatter-pancake.‌
uploader. 2010. "Map of USA with Midwest Highlighted." https://en.wikipedia.org/wiki/Midwestern_United_States#/media/File:Map_of_USA_Midwest.svg. Creative Commons Attribution-Share Alike 3.0 Unported.
"USDA ERS – FAQs." 2020. Www.Ers.Usda.Gov. March 31, 2020. https://www.ers.usda.gov/faqs/#Q1.
Van Dam, Andrew. "Analysis | The Most Midwestern Things on Earth, According to Data." Washington Post, July 29, 2022. https://www.washingtonpost.com/business/2022/07/29/airbnb-the-most-midwestern-things/.