23

Pacific Realm: Physical Geography II

New Zealand Compared
"There's a real purity in New Zealand that doesn't exist in the states. It's actually not an easy thing to find in our world anymore. It's a unique place because it is so far away from the rest of the world. There is a sense of isolation and also being protected."
Elijah Wood, actor best known for portraying Frodo Baggins in "The Hobbit: An Unexpected Journey" and in "The Lord of the Rings" trilogy.  These movies were filmed in New Zealand.
Is New Zealand the Norway or Iceland of the Southern Hemisphere?
New Zealand often is cited as one of the most beautiful countries in the world and deservedly so.  Its physical landscape is diverse and stunningly beautiful.  Compared to locations in the Northern Hemisphere, New Zealand probably is most like Norway or Iceland.  Let's examine the similarities and differences between New Zealand and its possible comparative regions in the north.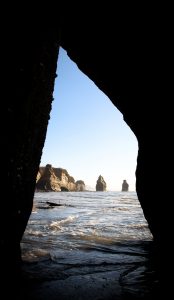 In physical beauty, certainly the beaches and shorelines of New Zealand are noteworthy.  As an island realm, obviously it has coastline.  Comprised of two main islands, unimaginatively named North Island and South Island, New Zealand ranks 9th in the world in length of coastline.  Iceland, also an island realm, ranks 25th, but Norway, a mainland country while having many very small islands, ranks 2nd, trailing Canada by far.  Mixed sand and gravel beaches are common in New Zealand, though some locations feature black sand beaches, economically valuable for gold and iron elements.  Due to the mid-latitude (the capital Wellington is at 41° S latitude) presence, a number of beaches are available for swimming, though some beaches and some conditions can present dangerous tides and waves.  In Iceland, Reykjavik's geothermally-heated lagoon (Ylströndin at Nautholsvik) offers summer swimming with a water temperature of 60°F, but otherwise Iceland's ocean shores present beautiful and varied settings of sand and rock, but not swimming.  Southwestern Norway, for instance at Orrestranda Beach at Stavanger, does see summer swimmers.  Note that while the Atlantic Ocean's warm Gulf Stream does pass between Iceland and Norway, bringing moderate temperatures with it, for these two countries their far northern latitudes – Iceland (at its capital Reykjavik) 64°10' N and Norway (at its capital Oslo) 59°55' N – inherently yield cold climates.  In fact, Norway is the 4th coldest (average temperature 34.7°F) country in the world, while Iceland ranks #7 (35.15°F) on that measure. Meanwhile, New Zealand averages 51°F.
| | |
| --- | --- |
| Country | Coastline |
| Norway | 38,351 miles |
| New Zealand | 9,404 miles |
| Iceland | 3,088 miles |
For these three countries, often coastline also means fjords.  Fjords are narrow paths of ocean water stretching and twisting inland where ages ago glacial retreats tore out the land.  Fjords can present spectacular views of heights, water, and land. Fjords can be found in several countries – Canada, USA (Alaska), Iceland, Chile – but most famously are in Norway and New Zealand.  In New Zealand, typically fjords are called sounds, as is Milford Sound in the photograph below.  For a look at the famed Milford Track, watch this short video:
Direct Link to Milfrod Trek Video by College of DuPage (New Tab)
New Zealand's southwestern side of South Island includes Fiordland, where are fourteen of the country's fjords are located.  Both Doubtful Sound and Dusky Sound are the longest at 25 miles.  While not numerous in New Zealand, the inherent beauty of fjords is picturesque.  Milford Sound is a popular tourist destination, actually the only one of the sounds accessible by road.
Iceland's fjords are more in number and length.  Of the 109 fjords there, Eyjafjörðurextends the farthest out to 37 miles. Norway truly is renowned for fjords, justifiably so, counting 1190 of these waterways, with Sognefjord extending an impressive 127 miles.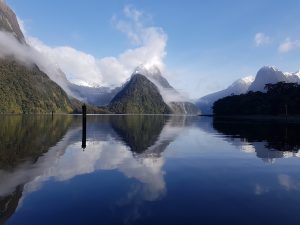 As fjords were carved by glacial retreat from the Ice Age, it may not be surprising that glaciers remain in these countries today.  Clearly, Iceland sounds like it should have glaciers and it does.  However, New Zealand has many more glaciers, more than Norway as well; yet, these tend to be very small, averaging 2.5 acres in area. Norwegian and Icelandic glaciers are larger.  As around the world, glaciers in these three countries are shrinking in size – surface area and volume.
Number of Glaciers
Country
# of Glaciers
Largest Glacier
Area of largest glacier
in square miles
Iceland
269
Vatnajokull
3204
New Zealand
3144
Tasman
39
Norway
1600
Austfonna (in Svalbard)
3248
Glaciers, large bodies of ice moving under its own weight by gravity and melting, often are associated with mountains that provide slopes and colder elevations. The mountains of North Island, but especially the Southern Alps of course on South Island, are the consequence of New Zealand's location astraddle the line where the Australian tectonic plate meets the Pacific tectonic plate.  The resulting subduction created high mountains and volcanoes in New Zealand.  As pictured below, Mount Cook is New Zealand's highest peak at 12, 218 feet.  The Southern Alps include a number of other peaks above 10,000 feet.  While Norway has numerous mountains as well, its location does not hit an active line between tectonic plates, thus its mountains do not reach as far skyward.  Galdhøpiggen  extends the farthest up to 8100 feet.  Iceland's complicated geology, noted in its own essay, produced its peak of Hvannadalshnjúkur at 6952 feet.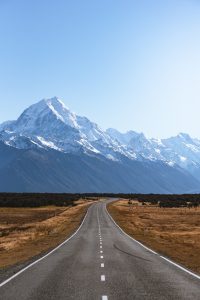 In sum, New Zealand features higher mountains, more but small glaciers, fewer yet gorgeous fjords (or sounds), and warmer beaches than Norway and Iceland do.  All three countries incorporate beautiful scenery into enticing location for tourist visits.  New Zealand's far distant location is a disadvantage compared to Norway's and Iceland's respective proximities to America and Europe.
Pakistan has the most glaciers in the world.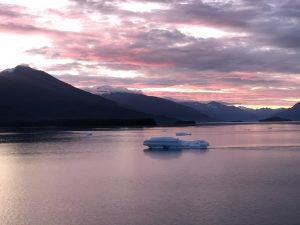 The 17th of May is Norway's national day. In Norway and among those elsewhere who have Norwegian ancestry, the day is known as syttende mai – Seventeenth May. In Fiordland in New Zealand, the day is celebrated as well.
Being at similar latitudes as Norway and Iceland, Alaska is cold.  As noted in the text above, like Norway and Iceland, Alaska has fjords.  Misty Fjords National Monument and Kenai Fjords National Park are two regions established for the protection of these distinctive and beautiful coastlines.
Cited and additional bibliography:
Kay. 2018. "Top Beaches in Iceland." All About Iceland Blog. May 9, 2018. https://adventures.is/blog/top-beaches-in-iceland/.
Mapes, Terri. 2019. "Must-Visit Beaches in Norway to Swim and Surf." TripSavvy. March 12, 2019. https://www.tripsavvy.com/best-beaches-of-norway-1626520.
Wikipedia Contributors. 2019. "List of Countries by Average Yearly Temperature." Wikipedia. Wikimedia Foundation. April 2, 2019. https://en.wikipedia.org/wiki/List_of_countries_by_average_yearly_temperature.